SAIL OCEANOS
Private Daily Cruises
in the island of the Knights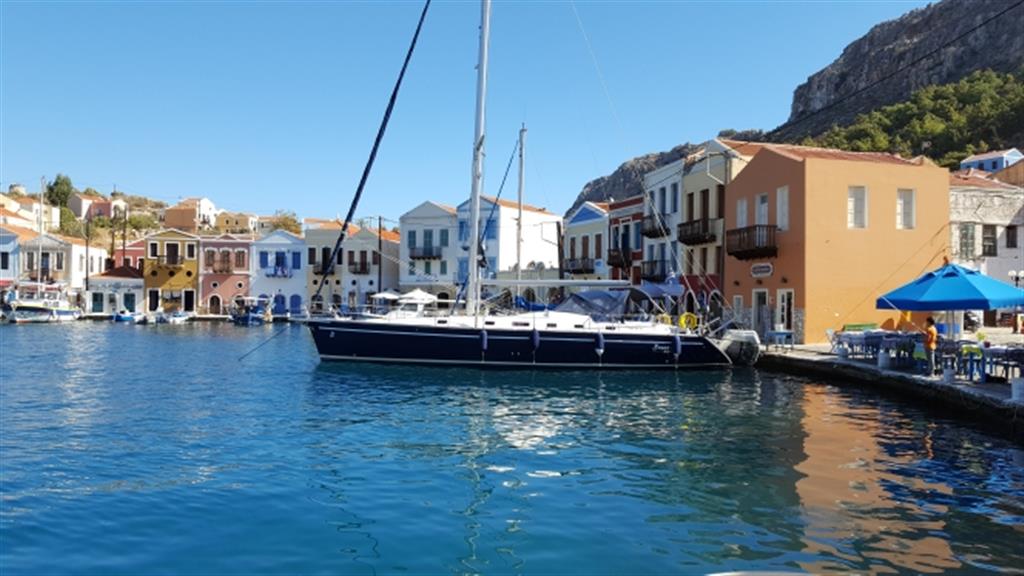 Tel: +30 6932539798
Email: info@sail-oceanos.gr
k_roubanis@hotmail.com

---
EQUIPMENT
Available equipment for the OCEANOS boat:
COCKPIT: Anchor CQR with Chain, Anchor Worker, Maneuver, Worker Control, Replacement Worker Control, Inflatable, Oars, Inflatable Trumpet, Outboard, Bathroom Ladder, Balloons, National Flag, Compass, Lifeboat, Floating Lamp, Rescue Rope, Passenger , Cockpit Shower Cockpit, Cockpit Shower Cockpit, Cockpit Table, Sailing Handle, Flycatcher and Keys, Hook, Navigation Instruments, Cockpit GPS Plotter, Bimini Top Tent, Spray Hood, Scaffold, Emergency Laurel, 3 sets masks - flippers - snorkels, plastic bits Diesel, Radar Reflector, Engine Oil, Cooling Water Machine, Petrol Sink, 2 Gas Bottles, Chain Anchor with Chain and Rope, Loop Ropes, Various General Purpose Cords, Water Pipe, Max Roller and Genoa, Deck Brush, 2 buckets, Cockpit.
SHIPPING - SAFETY: Portland, Warning, Medical Manual, Boat Papers, Nautical maps, Bi-directional, Clip, Pencil - Pencil - Eraser, Hand Compass, Gloves, Binoculars, VHF, GPS, Radio-cd, Search light , Replacement Batteries, Fog Horn, Fire Extinguishers, Smoke Fog Set, Rope Cutter, Spare Parts Lights, Black Balls, First Aid Box, QNS Flags, Adult and Juniors Lighters, Adult and Juniors Safety Belts, Cantilitas, Toolbox, Inflatable, Spare parts price, Spare fresh water pump, wooden wedges, Battery Charger, Replacement bulbs, Turkish flags and yellow, Autopilot, Bow Thruster, GPS Plotter in Cockpit GPS Plotter and the Chart table.
EXTRA: The vessel is out of the ordinary standard equipment, it has a 6KVA Generator, Air Condition Clima and LCD TV in the living room.
KITCHEN (GALLEY): Kitchen and LPG oven, Frying pan, Teapot, Coffee maker, Coffee and sugar cans, Electric refrigerator, Cutting wood, Lemonade, Coffee mugs, Cups, soup and sweets, Salad bowl, Pans, Spatula, Cutlery and cooking forks, Can opener, Wine cooler, Soupla, Waffle, Paraffin, Tea cloth.
SHEETS - SHIRTS: Cushions, Sheets, Blankets, Towels, Pillows.
Our boats are fully equipped and have all the necessary equipment for a safe and comfortable trip.
Additional supplies can be made available on request and may be subject to a surcharge.